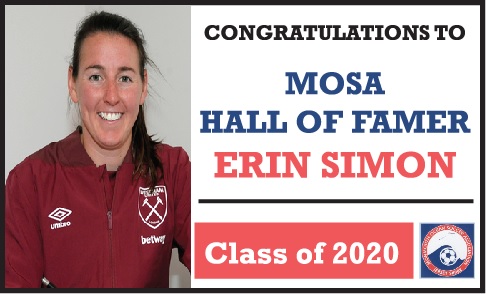 -
Grew up in little silver and started playing for Peninsula at the age of 7 for Jim Macalary's U9 team where I spent most of my youth career.
- After tearing my ACL the summer going into my senior year of high school, without being committed to any colleges and only having interest from D3 schools, I walked onto Syracuse University soccer team. I started as a winger at Syracuse my freshman and sophomore seasons, but eventually moved back to fullback for my junior and senior season and since then have never turned back.
- After graduating from Syracuse in 2016, I went to the NWSL open tryouts for the Orlando Pride and Sky Blue FC where I was invited into preseason by both teams. I decided to attend Sky Blue's preseason where I ended up earning my first professional contract and started 18 out of 19 games on the back-line as a rookie.
- My second season at Sky blue was cut short by a left foot fracture that sidelined me for the season.
- Heading into what would have been my third season with Sky Blue, I was contacted by West Ham United in England asking if I would be interested in playing overseas. I signed a contract with West Ham for the 2018/2019 season starting in 22 out of 25 games for the Hammers. I was an integral part in the historic first season in FAWSL for West Ham United where we went all the way to the FA Cup Final which is played on the biggest stage in football, Wembley Stadium.
- In August of 2019, I received my first international call-up to the U23 USWNT Nordics Cup tournament held in England where I played against Norway and England.
- In January 2020, the Houston Dash of the NWSL made a bid on me which West Ham accepted and I signed a long term deal with Houston that brings me back to the NWSL.