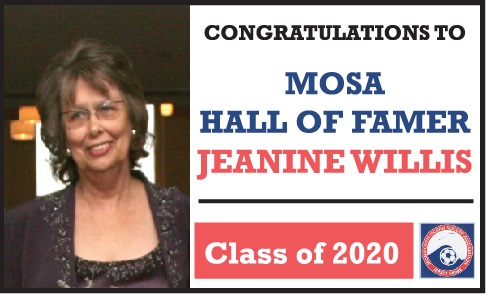 Jeanine served on the MOSA board for more than 20 years, holding the position of Treasurer. During those 20 years, she also served as first Vice President with the Battle of Monmouth Soccer Club. At the time of her passing, she held the position of Executive Director with New Jersey Soccer Association for 27 years. She started with the organization as a volunteer, setting up an office in the basement of her home at its inception. She was inducted into the NJYSA Hall of Fame in 1993.

In addition to her soccer accomplishments and contributions, Jeanine also served on the Board of Education for Freehold Township for 26 years, where she served as Vice President for 6 years and President for 7 years. She was a 40 year member and second Vice President of the Monmouth Council of Girl Scouts. Jeanine also served as charter member to the Noontime Optimist Club.

Jeanine and her husband John were married 45 years, together they had 3 daughters and 4 grandchildren. She leaves a legacy of dedication, devotion and commitment to the children of Monmouth County.