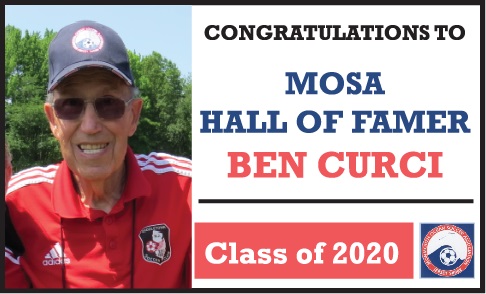 Ben Curci has been involved with shore area soccer since the late 1970's. He started as a recreation coach and referee for MYAA soccer and eventually took over the soccer recreation program there. He started coaching in 1980 when he became the assistant coach for the middletown cosmos, taking over for his son Robert who coached the year prior. Besides coaching the Cosmos soccer team through the 1980's, he also coached the MOSA summer select team, and eventually became the district commissioner. Once he started coaching he never stopped. He coached the Middletown Cosmos, and Goalbusters who were both NJ state champions, then he also coached the Dynamite, Avalanche, and The Vision. He served as president and treasurer of MOSA at different times from 1990-2017. He was the founder of MYAA travel soccer which eventually joined with Lincroft and St Marys clubs to form the Middletown soccer club in 1991. He was the treasurer of MSC for about 25 years. Ben was also the treasurer of New Jersey youth soccer while keeping the MYAA recreation soccer program afloat for about 40 years. He ran the 5 year old soccer clinic for MYAA until 2016.
Ben Curci was inducted into the New Jersey Soccer Hall of Fame in 1998 for all of his service done up until that point. Ben continued to put Middleotwn soccer on the map and many of his players have succeeded. Ben Curci has coached 10 female athletes that have gone on to Division 1 soccer. What's most impressive is the amount of women that went on to coach. He has coached 3 of the former coaches of Middletown South and the current coach of Middletown North. He has also coached the former Sky blue coach. His legacy continues as his former players teach his favorite game to the younger children today. Ben received a lifetime achievement award in 2004 from the Middletown soccer club and the club started the Ben Curci Scholarship as a result.
Ben devoted his life to growing the sport of soccer. Since 1981 he has coached female teams and believed that females could achieve great things in the sport. He has served in numerous roles for New Jersey and Shore area soccer without pay throughout his lifetime. Coach, volunteer, mentor, and friend. Ben Curci left a legacy that spans generations, and his legacy continues through the players he has coached.